The Beyoncé / Adjusted Realists at A.R.T. New York / NYC
"The design team did wonders... I loved Sam Transleau's Tuscan set, which was enhanced by Jessica Greenberg's lighting. William Mellette' s costumes, put us in the right era and the sound design and original music by Andrew Lynch was a delight."- Suzanne Bowling, Times Square Chronicles
"5 stars. An absolute treat...The world created by Bent and director Stephen Kaliski is built with love...Bent so skillfully tickles the audience with her witty banter. It's irresistible, and poignant exactly where it needs to be...One feels, by the end of the play, that all roads led to where Nadia ends up standing. The prose gifted to her by Bent is so pure and spell-binding that the story points not to Nadia's decision, but to the power that lies in committing oneself to a path, and living entirely for the moment as it comes." - Ben Odom, Plays to See
"A New Must See Queer Play in NYC...Roger Manix shines." -Brandon Voss, Logo NewNowNext
Interview with University of Massachusetts Amherst
"Soon after Jessica Greenberg graduated from UMass Theater with her MFA in Lighting Design, she found a position at Weber State University in Utah.… she has also maintained a working relationship with artists (in New York City.) It was only a matter of time before these various threads — Utah and New York, teaching and working as an artist — came together in a project that gave Greenberg's students a unique opportunity: being part of an Off-Broadway co-production of a new theater piece, The Beyoncé, by the Adjusted Realists. We wanted to know more about how this all came together, so Greenberg kindly offered to answer some questions for us."
Click here to read: https://www.umass.edu/theater/news/jessica-greenberg-%E2%80%9912g-brings-her-students-new-york-professional-theater-experience
The Briefly Dead / Adjusted Realists at 59E59 / NYC
"The Design Team has done a very fine job of bringing the production to the stage with set design by Kyu Shin, lighting and sound design by Jessica Greenberg. and costume design by Peri Grabin Leong... The Briefy Dead uses an inventive mix of live actors, shadow puppets, and music. It is an entrancing show, an unconventional story that is well suited to the 59E59 Theater's intimate performance space." -Marina Kennedy, Broadway World
"Director Elizabeth Ostler does a good job staging the various memories of Alcestis coming back to her, having the chorus forming tableaus and conjuring scenes from either a simple tune or a timely lighting effect (both lighting and sound are Jessica Greenberg's excellent designs)." -Ran Xia, Theatre Is Easy
"Elizabeth Ostler's direction, aided by the choreography of Katie Proulx, gives the play some distinctively theatrical moments, with stylized movements, freezes, shadow puppets (designed by Ostler), and supernatural lighting and sound effects (thanks to Jessica Greenberg)." - Samuel Leiter, Theatre's Leiter Side
Teaching Theatre Magazine
My article on lighting and math was the cover story for the Fall 2017 issue.
Surely Goodness and Mercy / Salt Lake Acting Company / SLC, UT
"Jessica Greenberg's sound design is especially effective. The organ music in the church scenes, children's voices and school bells and funky music bring in the outside world to create a multilayered environment." - Barbara Bannon, Salt Lake Tribune
"Sound design by Jessica Greenberg (with the assistance of Kyle Lawrence) sets the tone right out of the gate with pre-show music: modern R&B, with soul and hip hop influences. Music accompanies scene changes and occasionally underscores scenes, elevating the show. Literary themes are connected to musical themes, and to the careful listener, it's a powerful storytelling tool." - Suzanna Whitman, Front Row Reviewers
Interview with The Standard Examiner / Design Arts Utah Award
Click here to read: http://www.standard.net/Entertainment/2016/09/23/Weber-State-theater-professor-Jessica-Greenberg-wins-Utah-design-award
"Designers working in an array of fields enter the competition each year, but only one wins the Juror's Award. This year, that was Greenberg."
Marian; Or, The True Tale of Robin Hood / Flux Theatre Ensemble and The New Ohio / NYC
"Along the way they repeatedly transform the simple, elegantly rough set from forest to prison to castle walls, using little more than a few planks of wood and Jessica Greenberg's artful lighting." -Jon Sobel, Blog Critics
Phantasmagoria; Or, Let Us Seek Death! / PlayMachine and La Mama Experimental Theatre Club / NYC
"Jessica Greenberg's expert lighting and sound design adds wonderfully eerie textures throughout. In particular, she renders a fitting sense of the macabre when the Frankenstein story comes into play." -Cynthia Allen, Theatre Scene
"A strong ensemble cast and compelling design... a spectacular spectre-driven experience. The play becomes ephemeral and ethereal, with heavy ambience and puppet work." -Adrienne Sowers, The Reviews Hub
"A singular show that gives Shelley the attention she so rightly deserves... The story of Frankenstein's creature is augmented by spooky sound effects and suitably creepy puppets." -Adrienne Urbanski, Theatre is Easy
Gluten! / The Adjusted Realists / NYC
"The accomplished lighting design by Jessica Greenberg crisply lends a futuristic dimension." -Darryl Reilly, Theatre Scene
"Interesting costumes by William Mellette, and cool lighting by Jessica Greenberg…" -Samuel Leiter, Theatre Pizzaz
"The play holds the audience's attention without missing a beat, a nuance, or a single line. Adding their immense talents to the production are Jessica Greenberg, lighting design; Jason Sherwood, scenic design; William Mellette, costume design... who contributed so much to the end result." -Patricia Norris, Woman Around Town
"Mr. Kaliski clearly means to lampoon our current fascination with ionized water and alternative foods, our fear of anything unnatural or adulterated with added sugar. That is territory rich and ripe, and the cast is eager." -Alexis Soloski, The New York Times
Stupid F*cking Bird / Salt Lake Acting Company / SLC, UT
"Technically, the show's designers — Thomas George's set, James M. Craig's lighting, Erin M. West's costumes and Jessica Greenberg's sound — all beautifully serve the story." - Ellen Fagg West, Salt Lake Tribune
Mr. Perfect / Salt Lake Acting Company / SLC, UT
"Keven Myhre's funky pink set features boxes with bull's­eyes where urban street scenes are projected, and James Craig's lighting is brassy and bright... Jessica Greenberg's sound design vividly brings the noises of the outside world in." – Barbara Bannon, Salt Lake Tribune
Dramatics Magazine
My article on lighting and color was the cover story for the October 2015 issue.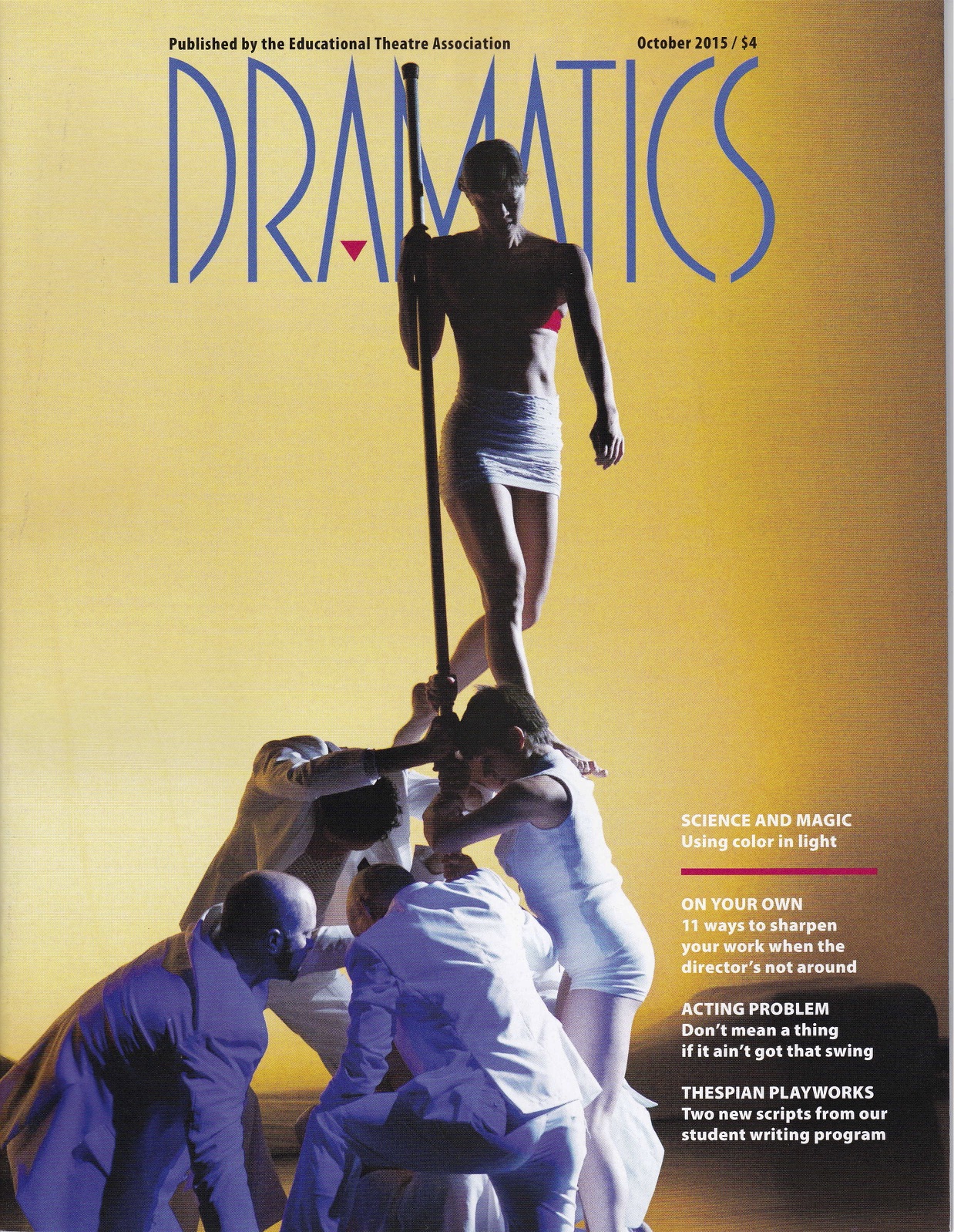 My article on lighting and color was the cover story for the October 2015 issue.
Surrenderalla / SB Dance / SLC, UT
"The production values are alluring; the lighting is zippy, bold, almost circus style. " – Daisy Blake, Salt Lake Tribune
The Pushers / SB Dance / SLC, UT
Winner, Salt Lake City ARTY Award Best Multi Media Production 2014
"Intimacy, humor, and technical panache combine in SB Dance's The Pushers, a modern and mature exploration of the closets we all find ourselves in and how we push ourselves out." – Daisy Blake, Salt Lake Tribune
Pterodactyls / The Adjusted Realists / NYC
"The production values are high… Peri Grabin Leong's scenic design feels like an upper middle class conservative home gone slightly shabby…Jessica Greenberg's lighting is rich and creepy…" – Mark Savitt Reviews
Of Myth & Mud / Allred Theater / Ogden, UT
"Jessica Greenberg's rich, subtle lighting, and Alex Thedell's vivid sound design point up dramatic moments without distracting from them… There is an impressive cohesion to the design of this piece…" - Melissa Leilani Larson, Utah Theatre
Raised In Captivity / The Red Fern Theatre Co. / NYC
"The design was excellent all around… the pairing of the set with Jessica Greenberg's lights was inspired. Together they created a series of shelves, illuminated from inside, that brilliantly created different locations just by opening some and closing others, and added to the creepy dollhouse like feeling." – Ashley Griffin, Theatreonline
A Piece of My Heart / The Red Fern Theatre Co. / NYC
"Served by an excellent set (Adrienne Kapalko), lighting (Jessica Greenberg), and costume design (Summer Lee Jack), the period of the piece was conveyed sensitively through a collection of translucent panels and well choreographed movement of benches and blocks... This play could easily overwhelm the audience with psychedelic special effects but the production values complement the action " – Ashley Griffin, Theatreonline